Up Close: Jon Camp, Vice President The Humane League
The mission of The Humane League, the reason they exist, is to reduce animal suffering by inspiring change at all levels. This sense of purpose drives their actions in an unrelenting march forward for animals. On this episode, we speak with Jon Camp.Jon is the Vice President of Grassroots, overseeing all grassroots program work and developing The Humane League's national activist network.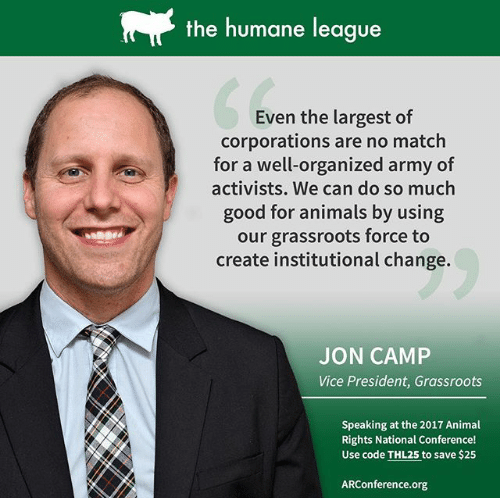 Jon shares about the 88% Campaign. Four more food service companies recently signed on to make changes for chickens in their supply chains in order to align with the demands of The Humane League's 88% Campaign.
The latest companies to make a welfare commitment include Cafe Services, MMI Dining Services, American Food and Vending and HHS Culinary & Nutrition Solutions. With these new commitments, almost 50 percent of food service companies in the US have committed to moving toward improved conditions for chickens. Industry giant Aramark was the first to make a public statement about chicken welfare. Now others are feeling the pressure to follow suit since that groundbreaking announcement in November 2016.
Listen & Share! Through the 88% Campaign. The Humane League is working to change the lives of billions of farm animals. These most recent policy announcements prove companies are heeding their demands. On today's show, Jon shares how you can get involved no matter where on this small planet you reside.
Listen to Up Close of Your Favorite App
If you don't see your app below, log into your app and search on "Up Close with Chris Tinney
Comments
comments